Goa is divided into two parts by tourists – North Goa which is frequented by mass tourists, party hoppers and backpackers & South Goa which is synonymous with pristine beaches and luxury hotels. Although North Goa has its share of undiscovered (by mass tourism) beaches and South Goa has its share of beach shack hopping budget tourists, the definition holds for the most part. On one such pristine beach of Cavelossim lies the beautiful Radisson Blu Goa where we spent a couple of days enjoying their hospitality.
We drove down to the property on a rented car from Calangute which took us nearly two hours to reach including fuel stops and slowing down to take in the sights on our way. The roads were good for the most part even though the region was hit by a cyclone for the past few days. That said the vast majority of our journey was through single lane narrow roads through villages and its best not to expect sprawling 8 lane highways on the way. That said, the countryside is beautiful and we found ourselves slowing down without being prompted and if you're here reading this review, possibly you will too.
First Impressions of Radisson Blu Goa
The hotel is very easy to find especially if you're a google maps user like us and unsurprisingly as always it had predicted our journey time to the minute, despite our best efforts to prove it wrong. Maybe Google does know us better than ourselves. The approach road has another property by Karma hotels on the left you enter the premises via an unassuming door manned by a guard. The parking is limited and what greets you beyond the doors is a huge structure resembling the façade of a grand cathedral or a palatial mansion. This is exactly what a hotel lobby should be like. Huge, airy, spacious and inviting. There was no standing in a queue at the reception to get our check-in done. Instead, we were seated on a sofa, offered welcome drinks and wet towels to freshen up before being asked to fill up some details and provide id proof to process our reservation. Though the process was smooth and relaxed, it took a needlessly long time to be done. For someone like us impatient to go have lunch and head to the beach, it wasn't an ideal situation.
Rooms at Radisson Blu Goa
Soon we were escorted to our room by Stella who gave a brief introduction to the property on the way to our room. The property has 132 rooms ranging from superior rooms to one-bedroom suites in the form of Portuguese themed villas. The villas are colorful and are a sharp contrast to the metal and glass buildings we generally associate with a modern luxury hotel. Our Business room in a purple villa was comfortable if a little basic in its appearance. We would've appreciated a unified control for the lights instead of scrambling around to search for the switches. Also missing were the "sanitized for your use" stickers on the toilet seats. Basic care for our hygiene is expected and thus missed here. The housekeeping was prompt to our concerns and was in and out of our rooms whenever required. Again, we would've appreciated them not walking into the rooms in their shoes given that they would be bringing in as much dirt as they would be cleaning. These were minor concerns and easily solved through a few words. The only reason we're mentioning them is our high expectations from the Radisson Blu brand given our past experiences.
You might also be interested in our guide to on what to do in Goa beyond the Beaches
The food at Radisson Blu Goa
Our main highlight wasn't the rooms or the fabulous beach which was just a 5-minute walk away through the adjoining Novotel property, it was the food. The hotel offers a wide range of cuisines in its restaurants and unsurprisingly we didn't find a need to leave the premises to hunt for another option during our stay. We found ourselves reaching for our phone gushing about the food we just had to friends in other parts of Goa. The team including Chef Peter, Chef Pranav, Chef Veronus and Chef Mohnish made sure our vegetarian diet didn't restrict us from appreciating all that the different cuisines had to offer. We could only try 3 of their restaurants in the limited time we had at hand for very different culinary experiences.
Lucio – The Portuguese & Goan cuisine restaurant was our first stop for lunch. It was our first tryst with the cuisine and the Chef made us a Goan thali for us to try everything on offer at a go. The result was a cacophony of flavors dominated by coconut which is the mainstay of the cuisine. There were a few variations where plant-based options replaced the seafood or meat fillings but we were assured that the basic taste remained unchanged. To be honest it was a mixed bag for us. The cuisine like many others is an acquired taste. We loved the green peas and cashew preparation, the coconut kadhi, the banana & cheese fritters as well as appams while the rest will take at least a couple of meals for us to get used to the taste. Chef Peters was an absolute delight and it was apparent he had invested a lot of time and energy to create this vegetarian thali for us. We loved the rice as well, but given that we prefer Indian bread (roti) with our meals he was kind enough to make us some while also providing us with some yummy Goan bread.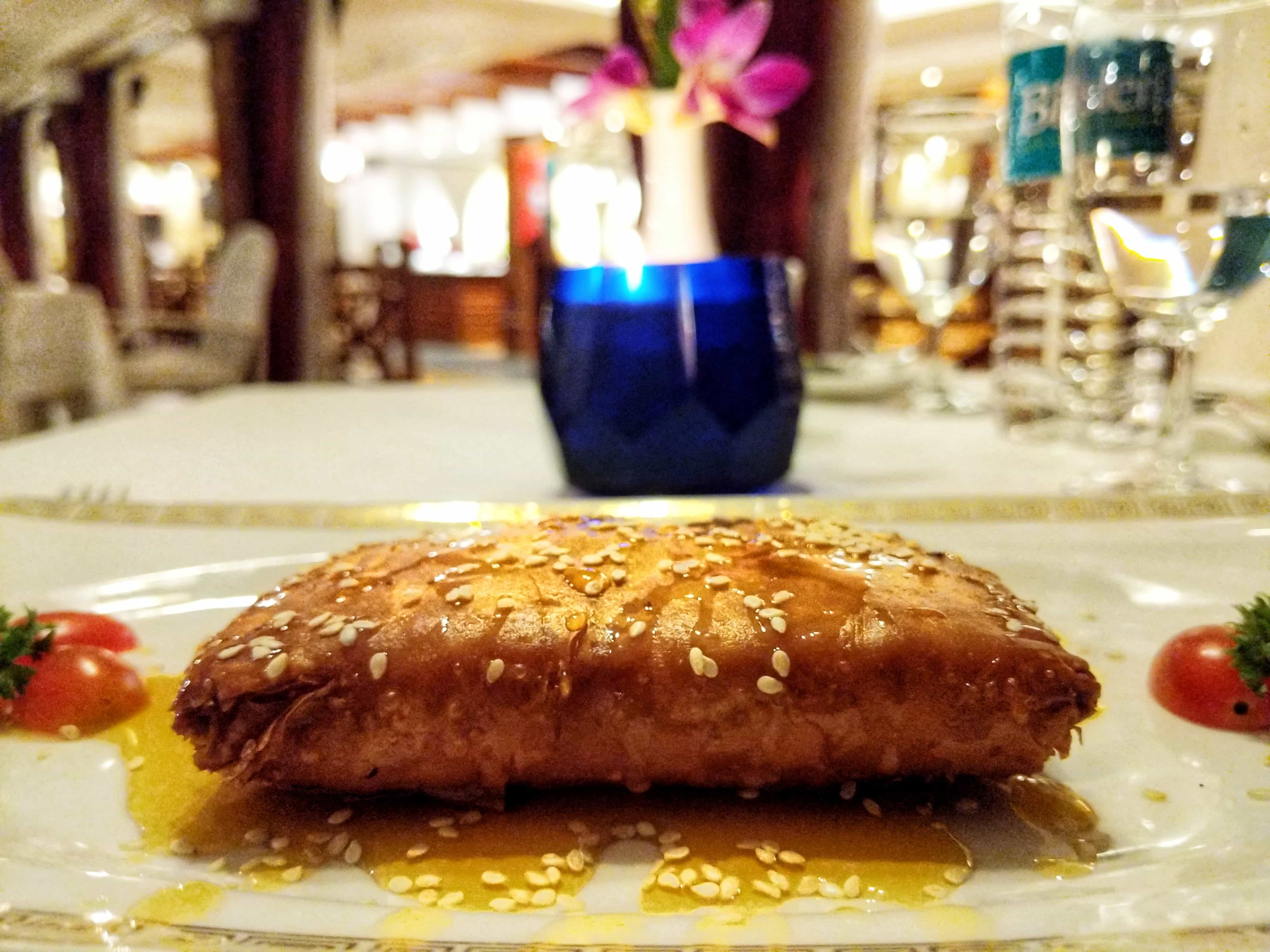 Greco – This Greek restaurant was our destination for the evening. We couldn't enjoy it in its usual alfresco setting under the bougainvillea's because of the rains but it didn't take away anything from the food we were served. Chef Pranav greeted us at the door and was secretive about what we were to expect from the meal. All that we understood is that we had better work on our appetites or we would lose out on the wonderful evening that was planned for us. We started with a fruit-based welcome drink and a Greek Mezze Platter – Instead of hummus, there was Tzatziki, Tirokrafteri & Melitzanosalata with pita bread. Delicious! We would've asked for more pita but then we realized our evening had just started. The second starter of the evening was Kolokithokeftedes which is Zucchini and feta fried with herbs. We aren't too fond of zucchini which is probably why we couldn't appreciate it enough, but the feta made it much more palatable for us. Tragani Feta was our final starter for the evening but it might as well have been the main course. The dish was unique in the sense that it was sweet and savory at the same time. It was Feta cheese wrapped in a puff type pastry crust drizzled with honey (in copious amounts) and sprinkled with sesame. It was by far our favorite dish of the lot as both the flavors melded very well together. The main course was yet to come and we were already in food heaven. Mousaka Laxanikon, a mish-mash of eggplant, potatoes, zucchini, and cheese. That it had eggplants and zucchini and we still managed to polish off almost the entire dish is a testament to how great it was. Another star entry for vegetarians on the menu. We ended the foodgasmic evening with a lovely bite-sized dessert trio composed of Greek Baklava, a chocolate dessert & cream, and red velvet dessert. Arindam who heads the operations at Greco among other responsibilities made sure our evening was perfect in every which way.
Upper Deck – This is their all-day dining restaurant and where they serve their buffets and breakfasts. We have to start with our review of the breakfast as the most important meal of the day. The breakfast spread is amongst the biggest we've seen anywhere in the world – especially when it comes to vegetarians. There are the usual suspects of juices, bread, cheese, and cereals. There's a live counter for waffles and pancakes, for South-Indian delicacies, for eggs dishes, and sandwiches. In the buffet section, we found multiple types of stuffed Indian bread (paranthas), as well as multiple types of other Indian breakfast items including poori bhaji (deep-fried savory with potato curry), sevaiya upma, bonda (deep-fried stuffed savory) among others.
The Sunday brunch was at another level altogether where they had arranged for food carts and live counters serving Indian starters, fresh-cut fruits, chaats and a couple of exotic dishes from around the world. The buffet had a range of Indian and International dishes, enough to satisfy all age groups, nationalities and palates.
Our dinner on our last evening at Radisson Blu Goa was also at Upper deck with a menu curated by Chef Mohnish especially for us. A table was reserved for us and decorated with what seemed to be edible starters on polished white stones, but they looked so nice, we decided it wasn't. We were later informed these were bruschettas and a healthy version of that given that they were made on a seed-based crust rather than bread. We followed it up with spiced pumpkin soup with pomegranate which we were told had an added benefit to increase our appetite and digestive functions. Given our experience of the previous meals, we decided to take it slow and easy and play it safe. Our first starter was fried yogurt with sultana chutney. The sweet and savory (slightly tangy) combination was perfect. We then hopped on directly to the main course with a black rice risotto with goghuchan spiced stuffed zucchini. This was a very interesting dish as we were informed that the black rice is only grown in a particular region in the Himalayas only a few months in a year. Additionally, the chewy texture is native to the rice and adds depth to the dish. The stuffed zucchini also complemented the dish well making for a wonderful combination. By the time we were done, we thought we didn't have space for desserts. One look at the dessert and we couldn't say no. Chocolate brownie and Brulee Panna Cotta. We thought of sharing one portion and ended up polishing off two.
The post does not do justice to the food we had and we can only reminisce about it until we can take it no longer and head back. We didn't have time to enjoy their fantastic pool but we did manage to head to the beach several times during our stay. It's a wonderful clean beach with only one beach shack offering sunbeds and finger food off the beach. Given the season it wasn't very crowded and left us enough privacy to have own undisturbed long walks along the length of the beach. The sunset was breath-taking and can easily be recommended as a highlight of the stay. There are so many things that are wonderful about this place that we are only sorry that we couldn't spend more time at the property soaking it all in. Hopefully, we will make it back soon. Hopefully so will you.
We were invited by Radisson Blu to experience their hospitality but all opinions remain our own.