We recently got our hands on the Olympus OMD EM5 Mirrorless camera and took it on a trip with us to see how well it performs. The lenses we took along were the Olympus 14-150mm f4-5.6 II Weather Sealed & the Olympus 7-14mm f/2.8 Pro M.Zuiko Digital ED, two distinctly different lenses covering two ends of the spectrum and known to have given good results. This was timely because we are looking to get onto the mirrorless bandwagon abandoning the bulky DSLR's for the more travel friendly and portable mirrorless segment which offers similar IQ with literally a lot of weight off our shoulders. Read on to see if it fits in our list of the best travel cameras 2017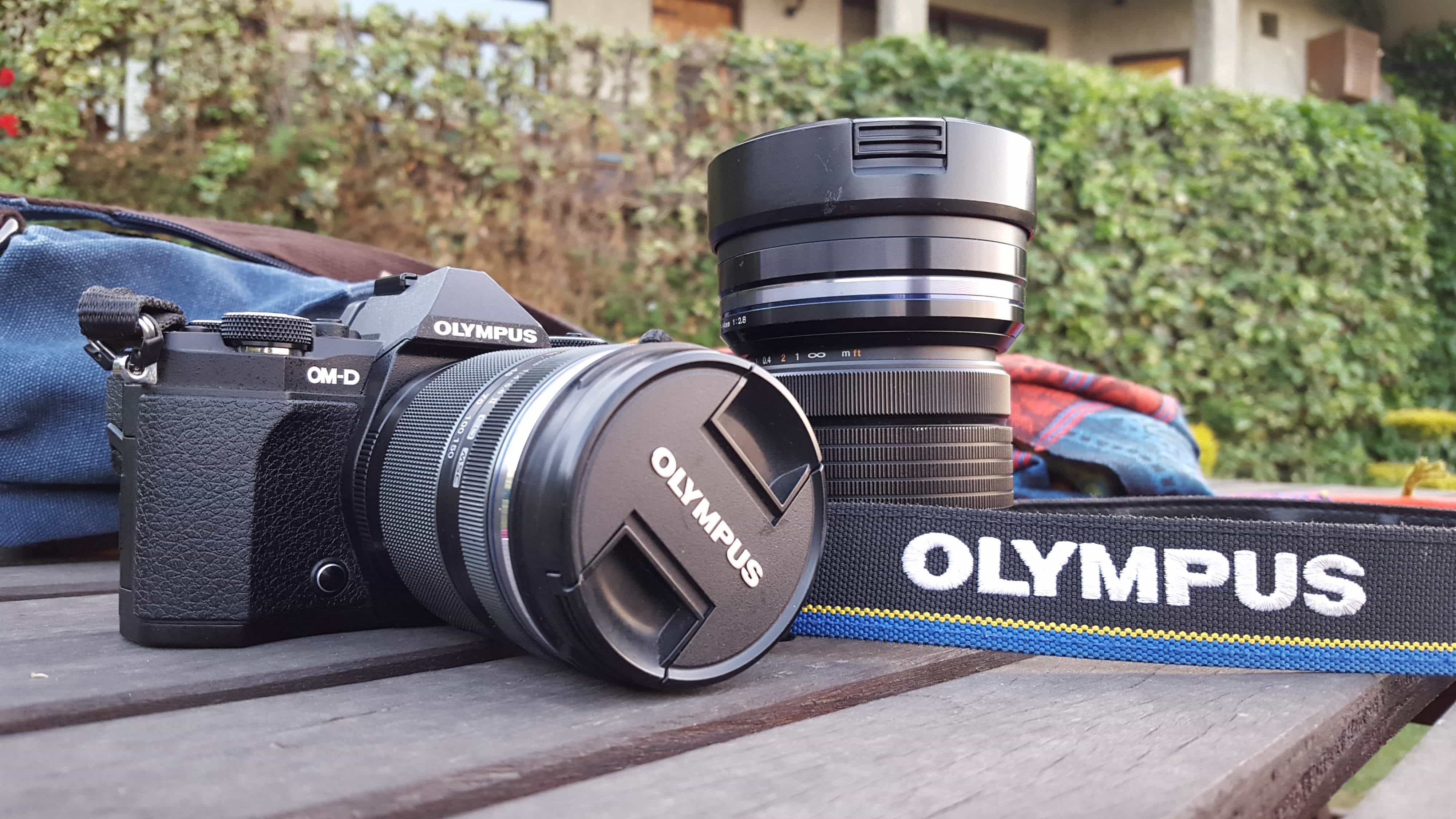 What are Mirrorless Cameras?
Mirrorless Cameras are the smaller cousins of the DSLR System with one significant difference. There are no moving parts inside and hence the image comes directly from the lens to the sensor. The viewfinder is Electronic hence it's a digital rendition of the image rather than a live view, however the delay is so small it is impossible to track it through naked eye. What this results in is, there is no need for a flipping mirror inside the camera which brings down the size (and weight) of the camera system significantly. A lot of purists argue that the quality is not at par with the DSLR system, a fact which was true a few years back but with the evolving technology, today they offer similar IQ at a much lower size. In layman terms, it has simplified the system to make it more digital than mechanical and hence reduced its size while not compromising on image quality.
What to Choose: Mirrorless vs DSLR
It's a matter of choice honestly. DSLR's come with a much wider range of lenses available as well as a whole bunch of ready references should you hit a roadblock in technique or wish to try something new. Mirrorless cameras are relatively new, have an (arguably) limited range of lenses as compared to the DSLR system but are significantly smaller and hence portable. Judging from a travel blogger's perspective, the mirrorless system is the future and its portability ensures that it's the best fit for us.
How good is the OMD EM5 MKII
The Olympus OMD EM5 MKII is the intermediate to expert offering by Olympus for their Mirrorless system just below their top offering EM1. Technologically speaking it's at par with the best DSLR's in the market and offers a great shooting experience for novices and experts alike. Both of us took turns in shooting with the camera and found it to be a stable and trustworthy companion which we would love to take out on our trips.
The biggest advantage in our eyes wasn't the 40mp high resolution pic it offers or even it's touch and swivel LCD screen, it was its weight. It almost seemed unreal compared to a similar DSLR setup even with a kit lens and almost toy like given its retro look and (much) smaller size.
Another feature we loved was its stabilization system which was one of the best we've used in any camera we've seen or used. To put it into perspective we clicked several great photos early in the morning capturing the sunrise handheld without any trouble. Low light + average ISO + handheld giving a great shot is definitely a big plus in our books given that not all locations are ideal for a tripod setup.
Yet another setting we loved and made a brief use of was the live composite feature on the Olympus OMD EM5 MKII. This is an ideal feature should you wish to capture movement of light in any form. It could be creative shots like light painting, star trails or even capturing some great traffic shots at night. We tried our hand with all of the above and came out with a great bunch of pics.
The only thing we could say was a bit of an issue was the grip. For a camera like this, which is much smaller than the hefty DSLR's, anyone migrating to it would maybe feel a little hesitant with regards to the grip. Even as we say this, we faced no problem even with one handed shots with the standalone camera. However we've seen the camera in action with the external grip (HLD -8G) and believe, if you're looking for a little more stability in your shots, are ok with spoiling the look of the camera (especially for the beautiful silver model) and are going to be doing a lot of shooting with bigger (and heavier) lenses, the grip comes very close to becoming a must have. However as we already mentioned, we shot a lot of pics even with the substantially heavy 7-14mm f/2.8 PRO and faced no stability issue most of the times with the existing grip layout.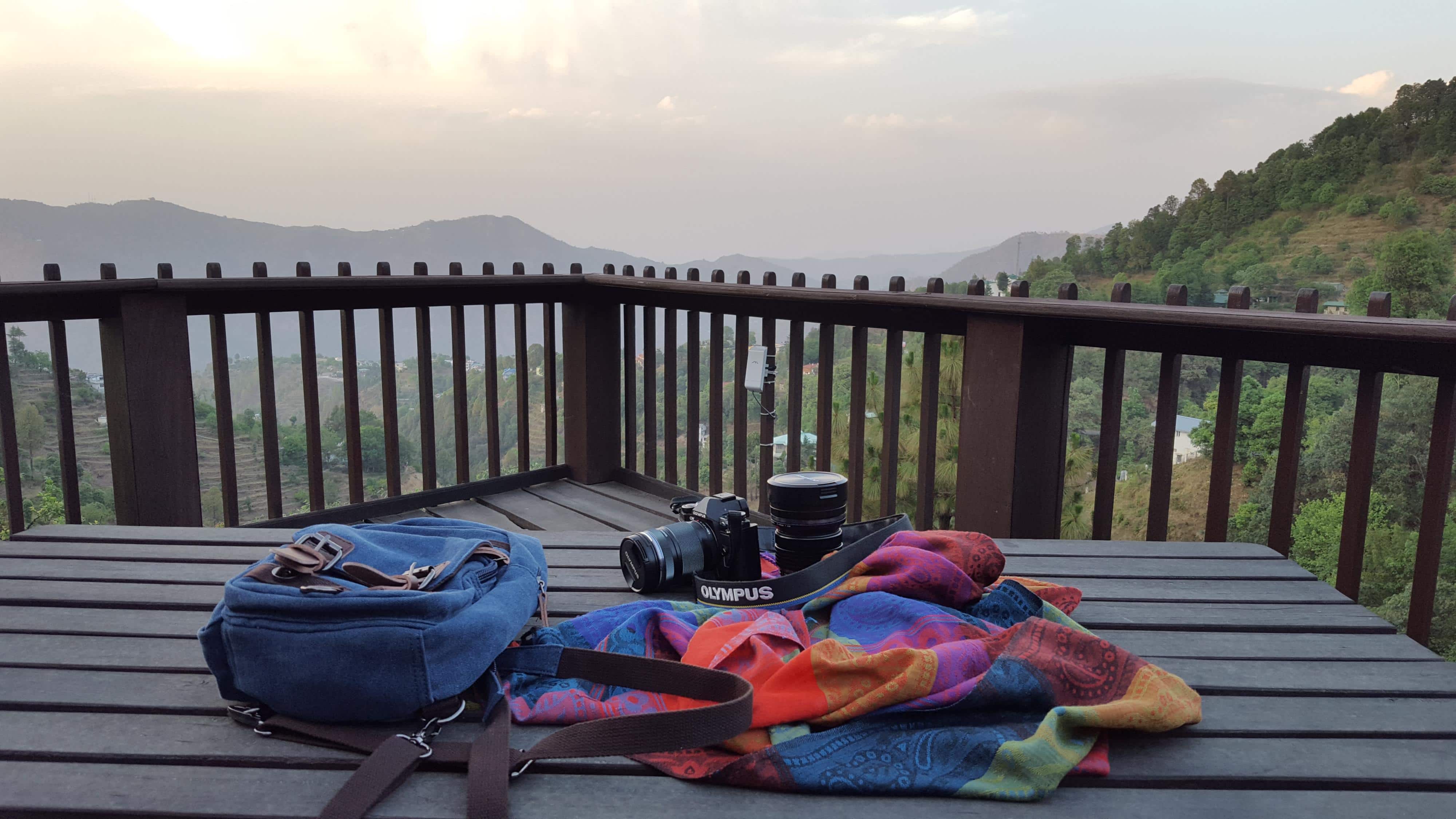 To summarize our experience with the camera:
It has a small weatherproof body with great controls and customizable buttons

It has a fantastic inbuilt stabilization which works with any lens

Great inbuilt camera processing if you just want to shoot in auto or take out jpegs.

Lots of features including live composite model, bulb mode, 40 MP high resolution and WIFI

Continuous AF wasn't as great as we expected especially for faster subjects

Timelapse is recorded at lower frame rates

Super Control Panel is God sent for anyone who knows how difficult it is to access deeply embedded settings in most camera systems.
So how good is it for Travel Bloggers specifically?
Cameras, like most tools shines in the hands of the users for whom they are made for. We feel the camera system was designed for travel bloggers, or atleast keeping an audience like them in mind. An ideal camera for a travel blogger is light, small, shoots great pics, inconspicuous and fast. The OMD EM5 MKII not just ticks all of them but shines in them even comparing it to its illustrious and more expensive rivals, the DSLR system. Though it is not small enough to fit every pocket it was portable enough to carry in a small bag WITH a couple of lenses. Even with a wide angle zoom lens it was light enough for an occasional one handed shot and sharp enough to give any camera system a run for its money. To capture the soul of a place one needs to do atleast a bit of street photography which means super fast captures to capture a city in its elements while being inconspicuous enough not to scare the locals away. The EM5 OMD which uses the MFT system (Micro Four Thirds) is small fast and sharp and hence great for street photography. The stabilization is so good that even if you're forced to used your lighting fast reflexes to capture the perfect scene it comes out unblurred and usable most of the times. That's a big plus in our books. We even tried our hands at wildlife photography and aimed to test the camera on the most nimble and fidgety species in the animal kingdom, the squirrel. Needless to say, the camera performed beyond expectations.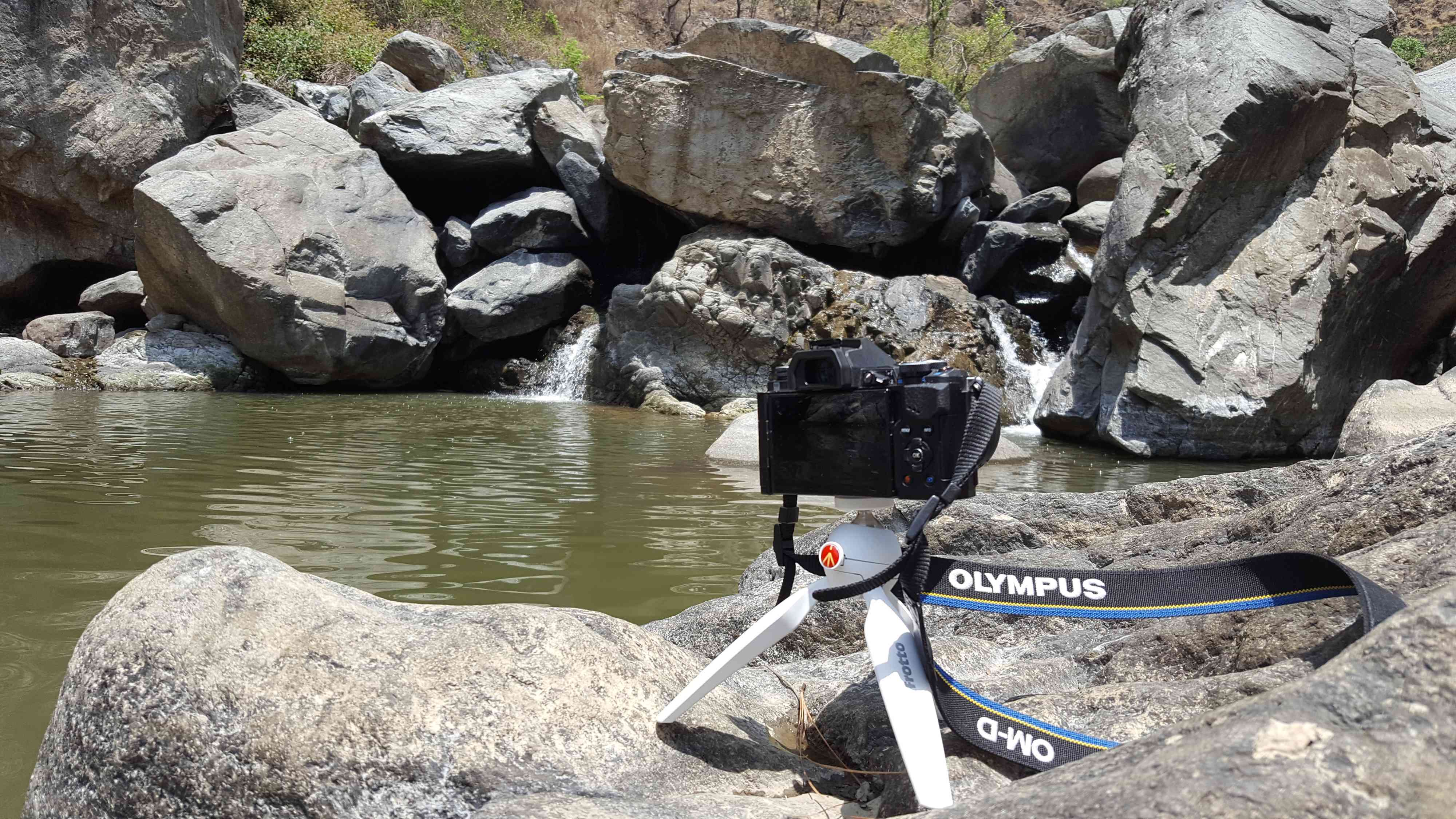 Lenses
We have tried 3 of their lenses and our experience with them are listed below:
Olympus M.Zuiko Digital ED 14-42mm f/3.5-5.6 EZ Lens: The only feature which stands out for this lens is its width. It is super slim, very light and fits very well on the camera making it one of the most compact mirrorless systems available today. However though it works well as far as kit lenses go and though it is probably better than the normal kit lens offered by Olympus, it wasn't as sharp as we would've liked especially in the middle, say at around 28mm or so.

Olympus M.Zuiko 14-150mm f4-5.6 II Weather Sealed: This was our favourite lens of the lot and for good reason. The lens was very sharp and though not up to the level of the PRO lenses or Primes offered by Olympus, very good for our normal use. The sharpness was good throughout the range making it an ideal companion especially as it clears up space to carry a prime for portraits or a wide angle for landscapes. The biggest plus is that it is weather sealed which combined with the weather sealed body of the EM5 MKII can be used in extreme environments as well as the rainy SE Asia climates.
Olympus M.Zuiko Digital ED 7-14mm f/2.8 PRO Lens: We were waiting to try out this lens for a long time and weren't disappointed. The Ultra wide lens offers a constant maximum aperture for a great stable performance throughout the zoom range. We didn't get to sue it much for video but the little we did proved that the performance was equivalent for both video and stills. As an ultra wide lens is a must have for anyone interested in landscape and night photography, we were very pleased to test it out. The lens is immensely sharp and though we did encounter some corner softness, it could easily be forgiven in the bigger scheme of things. We tried it with landscapes and the night sky and could not find any traces of chromatic aberrations which seem to be a common occurrence for such lenses. We did occasionally come across flares but they had unknowingly occurred in the best of places which had the pic come out great. No points to the lens though for the same. The lens was quite heavy especially for the EM5 system but it really felt good in our hands and we loved using it despite its weight. Overall a great lens to have.
Verdict:
We haven't had a lot to complain about in our brief tryst with the camera or the MFT system and were more than happy with the quality and number of lenses available for the system. Infact compared to the other mirrorless systems, given the economically great options available for lenses in the MFT system, it's younger sibling OMD EM10 MKII would be the ideal choice for amateurs progressing beyond point and shoots or bridge cameras looking for options beyond the entry level DSLR's. It offers the same image stabilization and the huge number of lenses available in the system at quite an affordable pricepoint. To summarize it in one line, it easily enters our list of the best travel cameras for 2017 and is one of the top contenders for the crown.
The pics below have not been edited in anyway and just been resized for better web viewing.