We say we lost our heart to Budapest only because we went there earlier. If not, chances are that it would be stolen by this city of spires, mired in history, culture and beer. It's Europe in a nutshell for the lack of a better analogy. It's got Vienna's art, a Parisian charm, its beer competes with the best in the world and its cobbled pathways lead everywhere and nowhere, from secret cafes to hidden chapels to unexpected gardens. Charles Bridge, a 14th century stone bridge across the river vltava offers brilliant views of the city spread on both banks and of the gorgeous hilltop castle. After a walking tour discovering the sights of the city you need not seek the comfort of your mattress. Instead soak away your aches in a beer spa and end your day at an absinthe bar if you want. The process of drinking this poison, banned in several countries across the globe, is fascinating to say the least. Prague is a city with a big heart and one we would love to get lost in again and again. Although 24 Hours is too little to spend in this enchanting city, we've come up with an exciting Prague guide should you have only that much time at hand.
PRAGUE GUIDE DAY I 
5.30 P.M.
The old town square is perhaps the heart of the city and one of its most popular and historical areas. Given that it's filled with dining and drinking establishments of all shapes and sizes, it's guaranteed to have a sizeable tourist and local population irrespective of the time and day of the week. The astronomical clock is something which is covered during the day walking tour as well, but the evening does add to its charm. Though everything in the city is just a small walk away, the beautiful Charles bridge, literally so, looks enchanting during the night. Adorned with 30 statues, one of which is an effigy of the martyr St John of Nepomuk and legend has it that touching the statue will bring you good luck. A small walk across the bridge is highly recommended.
7 P.M
It is a shame if you miss out on a cultural initiation when in Prague. Arguably the best way to do so would be the Prague Ghosts & Legends Walking Tour (or a similar tour by some other name). Normally about an hour and half long, the tour takes you through the twisting back streets and narrow alleyways visiting mythical monuments like the headquarters of the Knight Templar in Prague and haunted churches. Though probably not as scary as the dedicated ghost tours, this one is for the entire family with the right mix of history, culture and horror to keep everyone on their toes.
8.30 P.M.
Head on to Lehká Hlava, our choice for the best vegetarian food in town. The place serves a mix of Mexican, Italian and Czech food, ideal after the long (and scary) walk which should've helped your appetite. The "small clear head" taster plate and the simple green salad with honey-lemon dressing is what we recommend, but the other starter and main course options are just as good. After you're done, you have an option to head over to Hemingway's bar for a brief introduction Absinthe and how to drink it the correct way, or picking a barely-pronounceable Trdelník from the vendors in the Old Town Square and Wenceslas Square. The Trdelník is a traditional pastry made from freshly-grilled dough covered with sugar and ground walnuts and a must have in Prague.
Insider Tip
The food stalls at the very touristy Old Town Square can be a bit pricey. Going a bit off the route will save you a few korun and probably taste a lot nicer too.
PRAGUE GUIDE DAY II
 9.30 A.M
Make your way to the Bistro Sisters for an early morning caffeine kick start and a spot of breakfast. We've heard that their "chlebicky" (traditional open-faced sandwiches) especially the option with red beet puree with goat cheese, radishes and cream cheese is a local favorite. The stylish, chic but extremely friendly café can be just the thing to have you prepped up to start the day.
10.30 A.M
Prague offers some of the best walking tours we've been on. There are numerous options to choose from based on your time constraints, but we would recommend one which takes you to the Prague Castle, The St. Vitus Cathedral, Kafka's birth house, the old-new synagogues and the Jewish cemetery.  However if you're in the mood to go exploring yourself, we have some interesting ideas for you as well. Take a tram from Korunovacní to Ujezd where the funicular railway will take you up to the top of Petřín Hill, which is the summit of one of the most popular parks in Prague, Petřínské Sady. The Petřín Tower which literally towers over the park offers some of the best views of the city given its high vantage point. After your morning fix of shareworthy photos and selfies, you can head towards the Bludišté, a beautiful labyrinthine hall of mirrors. The Prague Castle, a UNESCO Heritage site, is just a short distance away and a must see. Of course you can cover all the above mentioned places on your own, but it simply isn't the same without someone to guide you around.
12 P.M
If you've decided to skip the walking tour, head over to 'Lesser Town' or Malá Strana. Picturesque is the word that comes to your mind when visiting these quarters, recognizable by its beautiful Baroque architecture and quaint cobbled side streets. If you feel like a late lunch, grab a cherry cake or a meringue kiss from Cukrkávalimonáda's patisserie on your way. If you have some time at hand, it's well worth visiting the farmers market at Holešovická Tržnice , which offers quite a range of trinklets, street fashion, souvenirs and more. The products are much cheaper than the ones available at the more touristy locations and make for a good bargain. 
1:30 P.M
If you're in the mood to have a light lunch head over to Bistro Zahrada for an organic/ gluten free lunch – they offer outdoor seating as well if the weather is nice and the cakes are scrumptious. Alternately you can visit Estrella, which offers a more robust menu, good food and great service. The daily specials are always interesting and it's a worthwhile pick if you're in a mood for a proper lunch.
3 P.M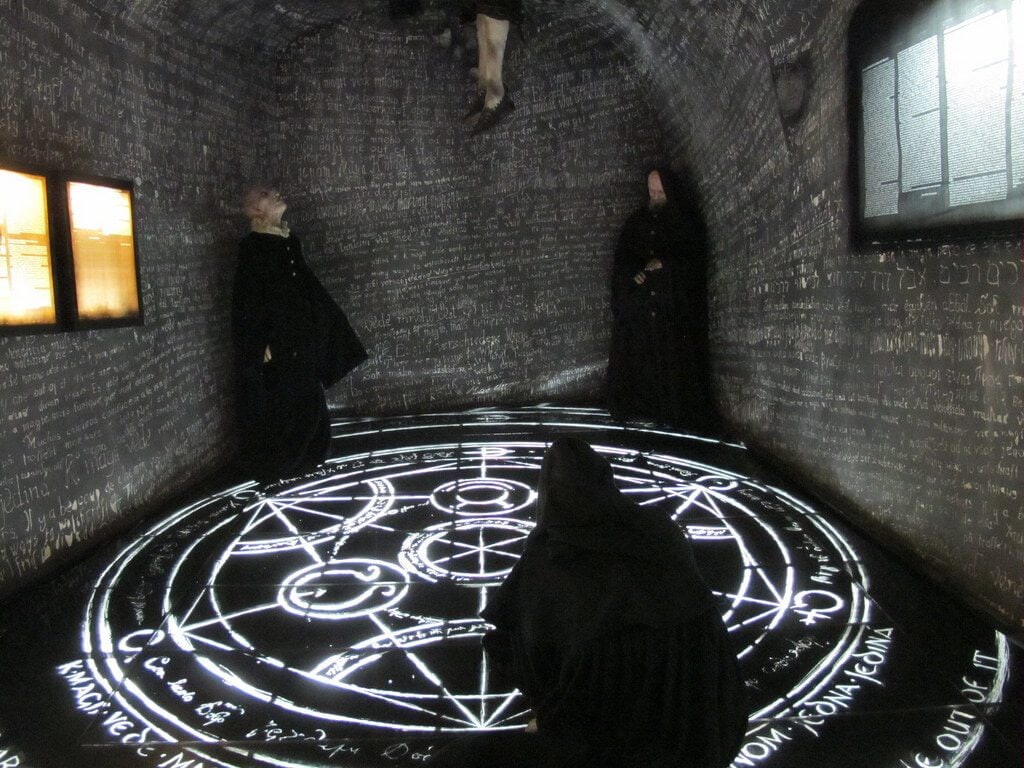 After lunch and so much outdoor sightseeing, the afternoon calls for some indoor sightseeing in museums (and art galleries if you like). The Museum of Alchemists & Magicians of Old Prague isn't as fascinating and magical as its name sounds but makes for an interesting visit. The presentation is flashy but is in tune with the theme given that occult practitioners & magicians who tend to be a little sensational themselves.  The Sex Machines Museum might not top everyone's list but should be if only for the bragging rights. That it is the only museum of its kind in the world makes it a must visit for the vaguely curious, couples on the road and solo backpackers alike. Families might want to give it a miss to avoid uncomfortable questions by curious kids. If your quota of weirdness is still not full, you might want to head over to the Museum of Historical Chamber of Pots & Toilets. We discovered a similar one in Delhi, but this one has quite the collection too.
5 P.M.
It would be tough to beat the above list with anything remotely normal so we would recommend heading over to the Lennon wall, which takes a bit of negotiating a maze of narrow alleyways to reach and is a graffiti laden wall dedicated to John Lennon. Surprisingly, the history isn't about the city's fascination with music but as a symbol of Czech youth's resistance against the previous communist regime which banned a slew of things including pop music. A fitting and interesting end to our proposed tour. Should you still be in town and have some time at hand, head over to the Beer Spa Carlsbad, the most popular spa of its kind in Prague. Reservations are not mandatory but recommended to not have you miss out on the one of its kind experience while in this city.
This concludes our itinerary for this wonderful city. If you have some suggestions or recommendations of things to do to add to the Prague guide, please feel free to mention them in your comments.
Like it Pin it