Austria has a unique proposition to offer to visitors given its location, weather and terrain. It has a population of just 8.5 million and has adopted the Euro as its primary currency. A country for all seasons, it has its capital at Vienna which houses about a quarter of its population. If you're planning to travel to Austria, its best to brush up on your German and read this Austria Travel Guide specially prepared for you.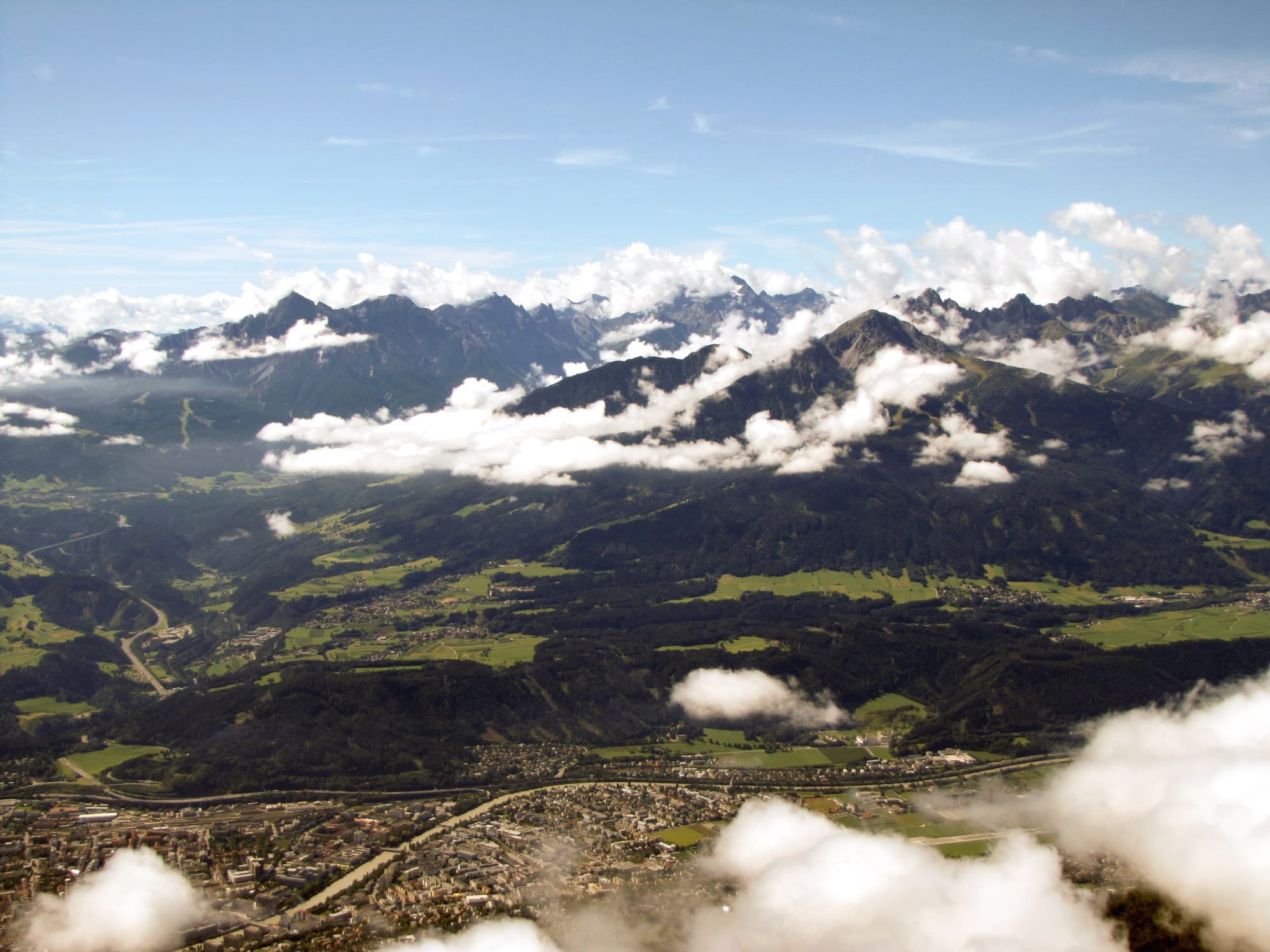 WHERE IS AUSTRIA
Wedged between 8 countries it is completely landlocked with Switzerland, Liechtenstein, Germany, Czech Republic, Slovakia, Hungary, Slovenia and Italy as its neighbours. Once a huge seat of power for the Austro-Hungarian Empire, it is today a federal republic consisting of 9 states and still maintains its capital from the imperial days, Vienna. After the Second World War, Austria declared itself as a neutral country similar to its neighbours Switzerland & Leichtenstein and even after joining the EU it maintains certain policies towards its neutrality based on the Swiss model, its neighbour and the oldest neutral country in the world.
The different states of Austria have a unique and different culture, however they aren't easy to categorize. Located at the major intersection of the European crossroads, the different regions are similar to their neighbours, especially Germany, Hungary and Italy. While the Alps cover about 3/4th of this small country, there's enough of plains, farmlands and vineyards to go around especially in the Vienna/Burgenland region.
STATES OF AUSTRIA
The 9 states/ federal republics are as follows
Carinthia (Kärnten)
Lower Austria (Niederösterreich)
Salzburg (Salzburg)
Styria (Steiermark)
Tyrol (Tirol)
Upper Austria (Oberösterreich)
Vienna (Wien)
Vorarlberg
CITIES OF AUSTRIA
Vienna, Innsbruck & Salzburg are its major cities especially with consideration to its tourist activities. As the winter sports capital of Europe, a title it shares with Switzerland, it offers a lot for Tourists and sports enthusiasts in the winters. Kaprun – part of the Europa sports region, St Anton – a popular Ski resort, Zell am see – one of the most important alpine tourist towns in Austria and Innsbruck – a well-known winter sports centre and a two time host to the winter Olympics are a few renowned destinations for enthusiasts.
However though it is renowned more for its winter activities, it is also a wonderful destination in Summer with its history rich small towns and the alpine mountains and clear lakes offering plenty for those wishing to take hike or indulge in the magnificent scenery of the Alps.
FOOD IN AUSTRIA
Austria, like Germany traditionally doesn't offer much for the vegetarian traveller however much is changing now especially is bigger cities where it is relatively easy to find a restaurant serving non meat options. That said the situation is the reverse in smaller towns where asking for vegetarian options will be looked upon as strange. Some of these restaurants offer fish based dishes as vegetarian and it is always better to ask the ingredients before ordering. If you're looking for a sure shot vegetarian order, Kasnudel which is similar to ravioli is almost guaranteed to be vegetarian. Bread is unofficial the national dish with every small town having a flourishing bakery serving delicious bread and desserts. We found Apfelstrudel a must have while there, however there's a possibility some of the other strudels as well as some names we're unable to pronounce might have been even better. It's a great idea to polish up your German before you go. Though English is understood in most tourist towns, a few phrases in German probability has the ability to make the locals more open to sharing secret recipes as with most other places we've visited across the globe. You might also want to look up our list of best Vegetarian streetfood in Europe.
DRINKING IN AUSTRIA
Vienna as the hotbed of culture and also home to about a quarter of the country's population is a bit snobbish when it comes to its drinking habits. This is primarily noticed in its famed café's, especially the ones serving in outdoor terraces, by the way they talk about their coffee and dessert options. However as Teetotallers, we found them a welcome change from the beer guzzling Bavarian neighbours in Germany. They also have some pretty good lemonade and berry juices which are available across the country. If you prefer a light alcoholic drink to go with your food, Schnaps is a great option. This is however the real kind made with real fruits unlike most packaged bottle options which are often flavoured. That said, the real Schnaps is quite expensive as well but worth the splurge if you just wish to taste the authentic stuff while you're there.
WHAT TO DO IN AUSTRIA / WHERE TO GO IN AUSTRIA
Austria Tourism is popular for its Sound of Music tours however there is so much to this pretty country in the form of art, classical music and beautiful architecture. You should always start with Vienna which has the best of everything given that it is the capital and houses a quarter of the population. It's a perfect blend of old and new, where galleries and street performers see eye to eye and serves amazing coffee throughout the day. However the best way to explore the old town area is by sitting in one of the horse drawn carriages and get transported back a 100 years or so. We do not support any forms of animal cruelty but seeing it in front of us, we could see why it could be a great idea. Salzburg is great for any music lover given that it is the birthplace of one of the most famous music composers of all time, Mozart. It is a UNESCO World heritage city, exactly like our current base, Ahmedabad, and it's easy to see why it inspired Mozart so much. Often called the "Rome of the North" it has plenty of churches, cathedrals and palaces as well as one of the oldest forts in Europe, Fortress Hohensalzburg. Innsbruck is another great option if you're an adventure lover. However the accompanying Swarovski Crystal Worlds in Wattens is a wonderful attraction for all ages. The museum approachable via a shuttle transfer from Innsbruck displays a large number a huge number of art pieces, gigantic displays and sculptures made using Swarovski crystals which are sure to leave you awestruck. It ends in a huge shop where you can buy these semi-precious crystals and jewellery or trinkets made with them. For couples and travellers looking for a bit of romance, Dachstein is a romantic village on an Alpine glacier. Wine lovers can drive down to Burgenland which is an hour out from Vienna. The dessert wine on offer are apparently delicious, especially Eiswein, which as the name suggests is produced from grapes frozen while on the vine however it's a bit expensive so maybe not for everyone. Klagenfurt & Halstatt are great options for people looking for some water/beach activities in this landlocked country. Klagenfurt, one of Europe's largest lakes, for instance has several beach fronts around the lake. Come Christmas, like so many European countries, Austria turns into a fairyland. The Ice World in Vienna or the Christmas markets in St Wolfgang, St Gilgen & Strobl, all of them are wonderful options if you've chosen to brave the winters to come there. Some people also treat it as a base to explore further east, onward to Budapest, Hungary or Prague, Czech Republic  which is also a great option for people with limited time at hand. 
To summarize, it is a wonderful destination all throughout the year with a different side on offer in summers and winters for anyone planning their holidays in Austria. A bit of research as to what you would prefer while planning to travel to Austria, can help your trip to this wonderful country be a grand success, for everything else, there's our Austria Travel Guide.
Read: Austria Tourism Board's official website