There are a lot of hotels which are very good but very few which end up leaving a lasting impression after we've left. Soulitude was one of the latter. As a hotel it does not boast of 5 star amenities, or of long lost heritage mid 17th century palaces. It is simply what its name suggests, a place to get some solitude for your soul. Situated a breezy 20 minute walk from the small but beautiful village of Ramgarh and right on the highway, you would imagine it to be quite noisy. However even with the influx of diverted traffic on the route, the nights were as peaceful as you would find on a camping trip in the middle of wilderness. We went there seeking the truth behind the glorious reviews and came back with the motivation to write one. It was quite simply put one of the best unhotel we've had the pleasure of staying at.
Getting to Soulitude
The property is about an hour and half from the Kathgodam station and passes through Bhimtal with the road overlooking the beautiful lake. There is an alternative road passing through Nainital which should ideally be avoided due to the might higher traffic, unless you do wish to spend some time in the now commercialized hill station. A massive gate covered with veils and creepers, just off the main highway is the first greeting from the property. A big downward slope welcomed us once past the gate, but luckily our room was the top most room on the property and a few steps down. This meant that we could postpone the long trek down to the main cottage just a little while more.
Soulitude in the Himalayas
The property has two cottages with a total of 10 rooms divided between them. The main cottage is better for the elderly and people with kids because it is where the meals are served, plus it has access to a small garden and other sit-outs just a small walk away. The newer cottage has the advantage of privacy and has arguably better views of the valley and the mountains beyond. We checked several rooms on both cottages in our tour of the property and found each room to have a different décor and a different USP. Frankly speaking, anyone would be at a total loss to decide which room to take after seeing all of them. We had shortlisted Bliss and Nirvana before coming to the property as they were both at the top of their respective cottages and provided the best views. We had finally opted for Nirvana as it provided a little more privacy, a separate entrance and a private balcony. However we could've chosen any room and returned a happy guest. A word of caution, the long walk from the main cottage to the newer one might be a little taxing for those having urban unfit bodies like ours. We had tiny beads of sweat on our foreheads and could be seen huffing a bit everytime we walked up to our rooms after having our mid-day meals.
Going with the theme of this holiday retreat, the rooms at each level are named after the different stage of mental peace a human can achieve. Starting at Awakening and ending at Nirvana. Each cottage had a common area where guests can lounge, watch TV, indulge in light reading or play the boardgames kept in easy reach. Though we were apprehensive about the sound travelling/echoing in the mountains, especially with plenty of noisy kids around, we faced little or no disturbance once were back in our room, a big plus for anyone coming here for R&R.
The region is beautiful and there are enough places around, all accessible within a couple of hours, to keep you busy for over a week. Gagar, where the hotel is situated also works as a great home base because of its proximity to Nainital should you wish for some urban comforts once in a while. A short walk away is Ramgarh, often referred to as the fruitbowl of Uttarakhand due to the large varieties of fruits being cultivated here. Unfortunately we missed the season and were unable to see the trees laden with fruits (or flowers) which should surely have been a gorgeous sight. Another speciality of the region is the large number of Rhododendron trees, called Buransh locally. Though we missed the official season, we got to know that the flowers are harvested, cleaned and made into a concentrated syrup used for making Sherbet for their guests till it lasts. This particular variety, served throughout your stay, will probably make it difficult to enjoy anyone of them on your return. It was that good!
The night skies at Gagar are incredibly clear. Although it was a bit cloudy with a one off drizzle during our stay, we still spotted an incredibly large number of stars, more than most places we've visited and probably only second to our stay at Chandratal Lake in Spiti. We first tried enjoying them through the skylight in our room, then on our private balcony and on the last day on a common sit-out area in our cottage. We literally couldn't take our eyes off them, they were so enchanting. The nights do feel chilly even in the middle of summer, so if you're planning to go there, do carry woollens with you, sitting out in the open staring at the stars isn't as pleasant as it sounds while you're half frozen.
Food & Service at Soulitude
The food at the property is simple, homely and tasty. The menu often reminded us of homestays or what we would have expected at a friend's house while staying over and it helps that the menu selection is based on locally available resources and not an elaborate multi cuisine menu. If you're a fan of Indian cuisine you'll be right at home here and even if you aren't, the chef has already addressed the most common complaints with Indian foods. The menu throughout our stay was non spicy, non-oily, relatively light on the stomach and had enough variation to not feel repetitive, atleast for a short stay. That is looked and tasted fresh was an added bonus we cannot stress enough the importance of.
There is nothing called room service and frankly should not be expected at such a place. However requests are taken care of promptly and with a smile. We never faced a problem with anything during our stay and the staff was quite happy to do everything in their power to make our stay comfortable. However the one thing we feel they can improve upon is the initiative taken by the staff. Not to say there was an issue with anything but with the high service levels we've come to expect, we feel the guests could benefit from it. If the staff were a bit more pro-active in getting things done, maybe small things like arranging for activities, asking for menu recommendations etc. we feel the place could reach a new height in guest satisfaction.
Read: Our benchmark for service & hospitality at Lakshman Sagar, Pali
Soulitude by the Riverside
The best part about the property is not on the premises. It is their sister property a short drive away, Soulitude by the riverside. It doubles up as a day-long activity or an interesting extension to the trip should you feel like enjoying two distinctly different experiences. Though they are both quite near to each other, The Himalayas property is on a mountain while the riverside property, as the name suggests in in a valley by the riverside. Though both are relatively cooler than the plains even in peak summer, the riverside property does get a little warm during the afternoon. The property itself offers a few getaways of its own including one to a mysterious lake called "pari tal" (fairy lake) which is a short hike away. However the most unique bit about the property is that it takes a bit of walking to get to it. You cross a bridge, a river and several small trails through the valley to arrive at the property. The hike is a bit longer for aged people and infants but quite doable for most fit adults (and even unfit ones like us) and even moderately grownup kids. The mountains all around you and the gurgling of the river together with the chirping of invisible birds makes for a lovely walk. Thankfully, there is a porter who takes your luggage to the property otherwise it would not have been such a pleasant task as described.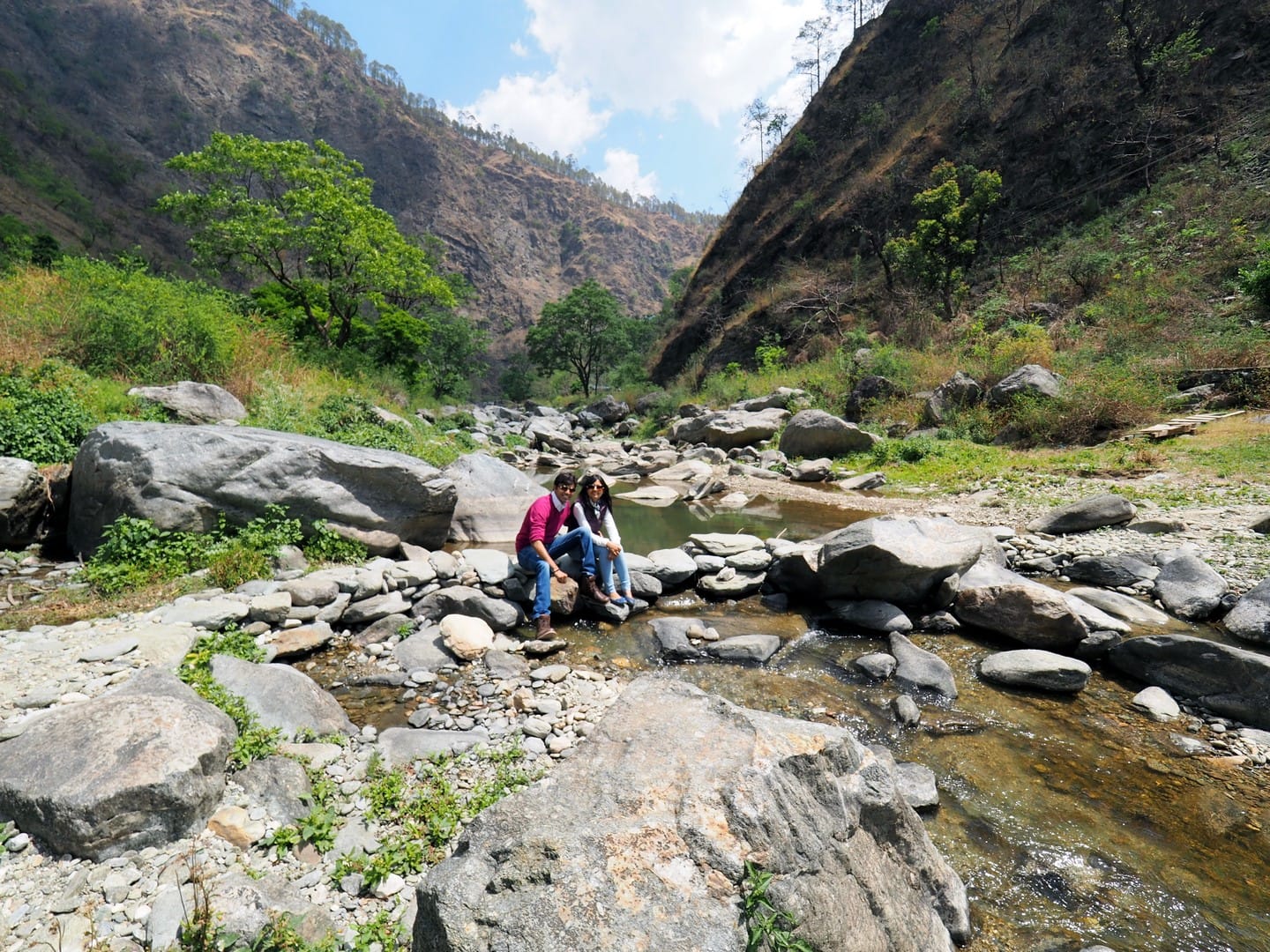 The riverside property is bigger than its sister property and provides a whole range of things to do on the premises. It has a natural swimming pool – basically a lake with clear water where you can wade, a small vegetable garden, plenty of sit outs facing a whole range of views, mountains, lakes and rivers to name a few. It also has two different restaurants, one in the open and other closed. However going by the weather, the open restaurant would be a good option only in the winters when the temperatures are lower. The rooms at this property were tasteful as well, but had a kind of rustic feel to them, a sharp contrast to the other property where it was chic and homely. Not to say either was good or bad, it was just different.
The food was very similar to what we had at our hotel as well but we found the riverside food to be just a bit more spicy and oily than we would have liked. As we had only one meal there, we would not like to dwell on it as it might have been so because of a number of reasons including the choice of menu items. The indoor restaurant had a nice dhaba feel to it but was also a little cramped. We didn't mind it much because it was empty when we had our food but at full capacity especially with families having kids in tow, we could see it getting a bit uncomfortable.
The main highlight of the property, the crowning jewel is the lovely glass house they've built bang in the middle of the property, next to their restaurant and overlooking the river. It doubles up as a lounge and library with tasteful décor and though we hate the overused word, very insta worthy. With high ceiling and glass panes all around, it gives the feeling of being very large, open and airy without necessarily being so. Also we found it a little cooler as well and needless to say, we found ourselves spending a bulk of our free time in that lovely room. Don't judge us for that, we're sure, you will too.
Soulitude vs Soulitude: Winner = You the Guest!
Both the properties have something different to offer to their guests but it depends a lot on the type of companions you have and the type of holiday you want. Both offer peace and quiet but the riverside property is literally in the middle of nowhere while the Himalayan property is built touching the main road. We didn't stay long enough at the property to experience it fully but we feel it would be quite hot for people wishing to escape the heat. It might be the reverse in the winters where the Himalayan property could be unbearably cold and snowed under while the riverside property would be bearably cold.
We quite liked both the properties but if we had to choose one it would be Soulitude in the Himalayas. The rooms were more to our taste, the food a little bit better, the weather more to our liking and even though it was right next to the main road, it was peaceful enough. What can we say, we've got a soft corner for the mountains. We would definitely like to visit again, probably in the winters. The valley views were stunning and we even got to see the snowy peaks on a clear morning in summers but we have a hunch that the winter snowy landscape would literally be out of this world.
We were guests of the kind folks behind Soulitude but as always, all opinions are unbiased and our own. Read the reviews on tripadvisor before booking it.
Our definition of Luxury Travel is a little different. If you're looking at other Hill retreats, you might also like our review of Glenburn Tea Estate in Darjeeling.