The beautiful vistas and the stunning landscapes of Ladakh are perfect for the photographers and adventure enthusiasts but before this trip we never thought it would be perfect for couples like us who love a bit of luxury mixed with our travels. We started off our trip with horror stories of unbearable cold, AMS and bad roads and when we were given a chance to experience the hospitality of Grand Dragon Ladakh, the premier name in Luxury and the only choice for the Who's who visiting this paradise on earth, we couldn't say no. We travelled with them to Nubra Valley & Turtuk and ended our trip with a couple of nights at their hotel in Leh.
Location:
The location of the hotel is in the middle of the city of Leh and very close to the market area making it the ideal location for people like us who prefer exploring the city and markets for the majority of our stay. The city of Leh is however small and distances do not matter much if you have a prebooked conveyance with you. However it gets dark early in the mountains and shops start closing close to sunset. Dining options are open till later and Grand dragon is a well-known establishment and is very easy to get a taxi to take you back.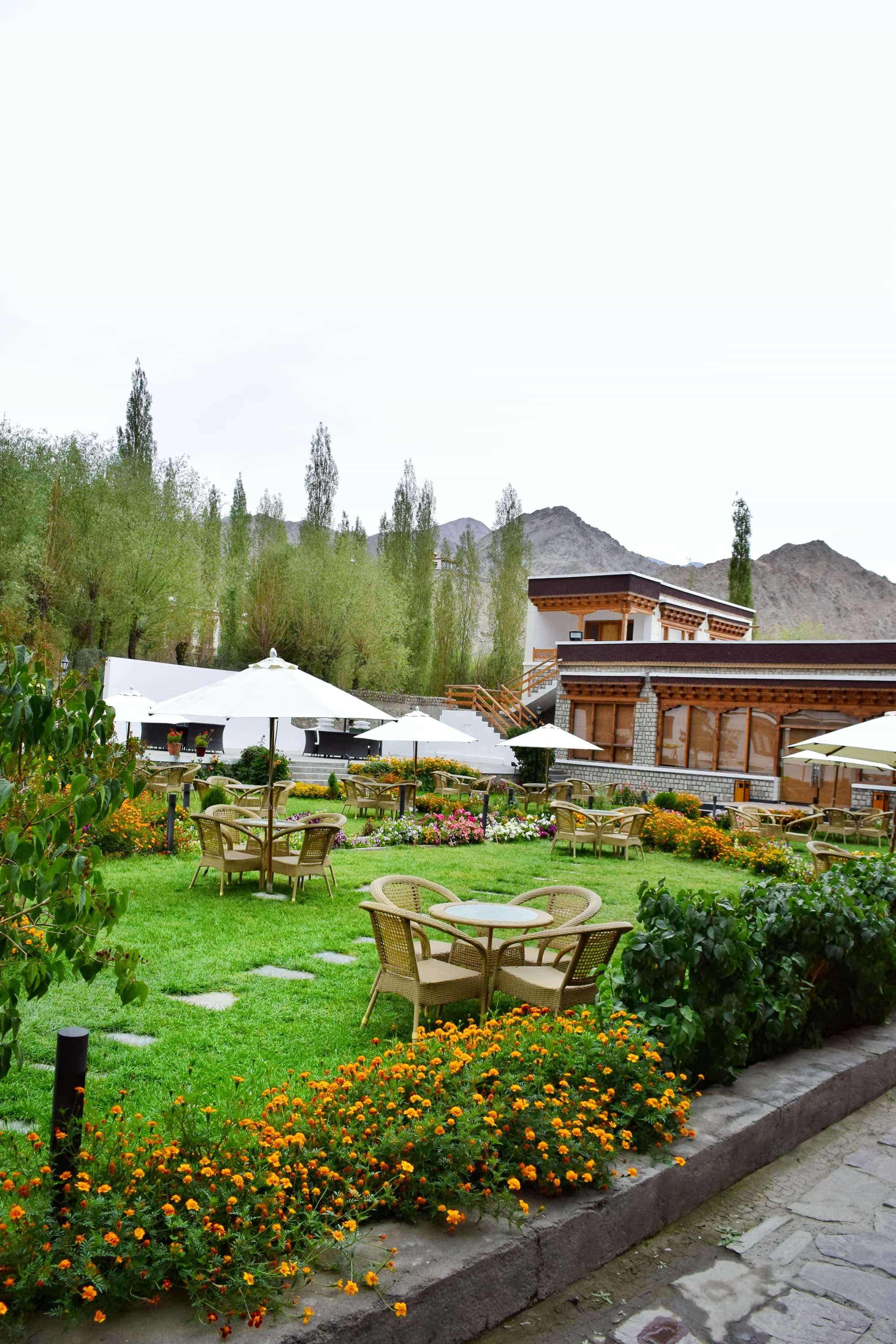 Hotel grounds & Accommodation:
The hotel is a sprawling complex with a big parking area, garden area which doubles up as a venue for open air events and 4 different room types – Deluxe, Family Suite, Luxury Suite, Premier Heritage Room. We were put up in the Luxury Suite which provided us with a Balcony looking out to the beautiful gardens and the Stok-Kangri range. It was too cold for us to realistically enjoy the balcony but we can easily see ourselves doing it in the months of June-July when it is warmer or in the afternoons if we decide to stay in. The rooms were luxurious and looked the part. No muted colours or minimalistic designs here. The creamy walls moved into the background as the pillow and cushion covers as also the padding behind the bed were resplendent in colours of orange, red, green and gold. Although we aren't fans of in your face luxury, this was very tastefully done. To give you a better reference think of those old Chinese movies with a scene showing the Emperors room in the palace. That is exactly the feeling you get when you first enter the room. Pure unadulterated richness. The linens were of the finest thread-count (we've learned to differentiate given the amount of time we spend travelling), the view from the window / balcony is stunning, the climate control (also given that the entire hotel is centrally air conditioned) is just perfect and you can move about in a t-shirt and shorts without worrying about the biting cold outside and the most important part of the stay experience, the complementary amenities, were top notch. Needless to say we slept like a baby and it was the first night in our entire trip without multiple layers wrapped over us.
You might also like to read about our experiences at the Naropa Festival
Dining Experience:
The hotel has 3 lovely dining options of which we only ended up trying one – because it was enough. Solja the Bakery, Zasgyath the Coffee Shop and Tusrabs for Oriental cuisine. Tusrabs unfortunately was booked both the nights we were there for a private party and hence we opted for the Buffet dinners at Zasgyath on both nights. Let's first talk about the breakfast. Given the remote location Leh is in, it is indeed prudent not to expect the same spread of breakfast options as other major cities, right? Wrong. It seems we were mistaken as it was amongst the biggest breakfast buffets we had seen across our travels with a huge range of options for vegetarians like us! Dinner buffets weren't any different with continental, oriental and Indian delicacies finding their way to our plates and (sated) stomachs. In short we could have been dining in any fine establishment in any major city in India and wouldn't have felt any different. Except maybe that the décor was again very opulent with a lot of gold used in the paintings and carvings all over the walls and ceilings. It wasn't dazzling, but you could be forgiven for thinking you had been invited to a party in a palace.
Hospitality & Service:
Our belief is that any hotel can be an architectural masterpiece, can get great chefs to serve finger licking food and have a location to die for because all of that can be bought. The only thing which cannot be bought and has to be inculcated is the service ethos. We've stressed that several times in the past while telling you about some of the best hotels in India which fell short of our expectations. However Grand Dragon Ladakh checked all our expectations and delivered on point. Because we were always on the go, our interactions were few & brief but all touchpoints were a pleasure to deal with. Mr. Hafiz who took care of our arrangements for the trip and our stay, was a fine gentleman who ensured that we weren't inconvenienced in any way on the trip. Mr. Abdul who became a guide, photographer, driver and a friend taking us around Nubra Valley, Turtuk and around Leh. A rare combination of a man of few words and a jovial temperament.
Closing Remarks:
Can we recommend this hotel to anyone visiting Leh? Absolutely! Is it worth the (significantly) higher cost per room night? Undoubtedly yes. The unpredictable weather and high altitude of the location ensures that our bodies are never in optimal conditions and we've found that it is very important that the body receives the rest it deserves to enjoy the trip. After battling the elements in the initial leg of our trip we finally found peace when we arrived at the Grand Dragon Ladakh for the above mentioned reasons and hence we can heartily recommend it as the only place we would prefer staying at when we're next in Leh. An added bonus is that it's a great place to bump into a celebrity unexpectedly given that it's perhaps the best luxury hotel in the city. We saw His Eminence Drukpa Thuksey Rinpoche and Sonu Nigam who was staying at the Grand Dragon and it's entirely possible to bump into your favourite idol the next time you're there – no guarantees.
Fact File:
Grand Dragon Ladakh is roughly 15 minutes or about 4-5 Kms from the Airport and walking distance from the main market area.
The best time to visit would ideally be from May – August. However from our personal experience early September is a good time to visit as well given that it is near the end of tourist season, hotel rates are lower and tourist locations are less crowded. Given that the region is inaccessible post October, May to September remains the best season to experience the property.
Grand Dragon Ladakh is great for everyone visiting the region. Be it couples looking for romance or families wanting a base to explore the region. You can book a room at their website for the best prices.
Like It Pin It!