Mountbatten Lodge is a colonial styled luxury retreat nestled within the green canopy of the Aravalli's near Ranakpur. The Jain Temples there are one of the best open secrets in India and most people, except the devout, who do visit, visit it as a day trip from Udaipur and are hence not able to enjoy what the place has to offer. Mountbatten Lodge, just under 10 Kms away, provides the perfect base camp to visit this marvelous monument without the undue pressure of a late return.
The story goes that the region was once a popular hunting ground for the British officials and this particular clearing was where the camps were set up especially for one prominent British official, Mountbatten. The verdant forest still covers the property and being up in the mountain beyond the cluster of hotels that have come up near the very popular Ranakpur Jain Temples means that you get to enjoy the place as it is meant to be, in peace and serenity.
The location was deemed quite dangerous as recently as 6-7 years ago because of the close proximity to the Garasia tribals who would shoot arrows at and loot unsuspecting tourists passing through post sunset. However initiatives by the local government and the owners have put an end to it and made it safe even for guests who would prefer to walk down the road and enjoy the countryside. Indeed the green cover on both side of the road, coupled with the pleasant climate up in the hills makes for a great walk down the usually lonely motorable road.
The Green canopy which surrounds the property extends into it as well albeit in a more controlled fashion. Indeed, the property has a small stream running through it as well as a small pond with lotuses blooming and frogs croaking. An ancient Banyan tree however is the place of preference for most guests who prefer its shade while having lunch. The small bridges, grey stone buildings and the dining halls with hints of neo-classical/greek revival architecture sound all over the place but come very well together. The interiors are opulent and have been decorated with memorabilia's, antiques, photos and the like from the owner's personal collection. The owner, Mr. Reggie Singh, the Grandson of the erstwhile Maharaja of Jodhpur, is quite affable and frankly great company for relaxed evenings to get you settled in. The music which plays during your meals as also in the bar area during the evening is personally curated by him and is fantastic. So much so that we had half a mind to request him to share it with us. Talking with him is part of the experience which Mountbatten provides and an experience it is. Where else would you be so relaxed having a light cup of tea or a drink in the company of Royalty?
Accomodation & Service:
There are just 4 rooms in the property for guests which makes the experience extremely private. A single villa houses all the 4 rooms, each with a different décor but very similar amenities. Four poster beds, huge living rooms, open showers, huge tubs and to top it off a beautiful plunge pool for lazy summer evenings. There was nothing we would've wanted more from a room which frankly could've been mistaken for a villa if we didn't know better. In keeping with the colonial theme, there are no geysers in the room and hot water baths would require a bit of prior notice, especially for early morning showers. The gas heater takes about 15-20 minutes to send hot water up to the rooms and unless you're on a hurried timeline, was not a problem. The best and worst part about the property is the lack of connectivity. Mobile networks are impossible to catch, there is no intercom and the absence of Wifi seems quite painful for the first 15 minutes or so.
A small bell is laid out on a table as the de-facto means of communication. It's as if someone handed us a magic lamp and every time we rub it, the genie magically appears out of nowhere fulfilling our every wish. The analogy isn't quite far behind once you experience it. The marvellous Daul ji with his huge moustaches is omnipresent and take about half a second to respond. In the rare chance of his absence Mr. Chauhan the guardian of this sanctuary is always there to lend a hand. We've been treated to very high levels of service in our travels and are quite a challenge to impress. But impressed we were with the sheer efficiency of this seemingly pre-medieval mechanism. Each one of the staff members we encountered were highly trained in the art of hospitality, some polished, some rustic but overall smooth as a clockwork. The "Ji Hukum's" still resound through our minds when we look at the pictures or remember the place.
Food: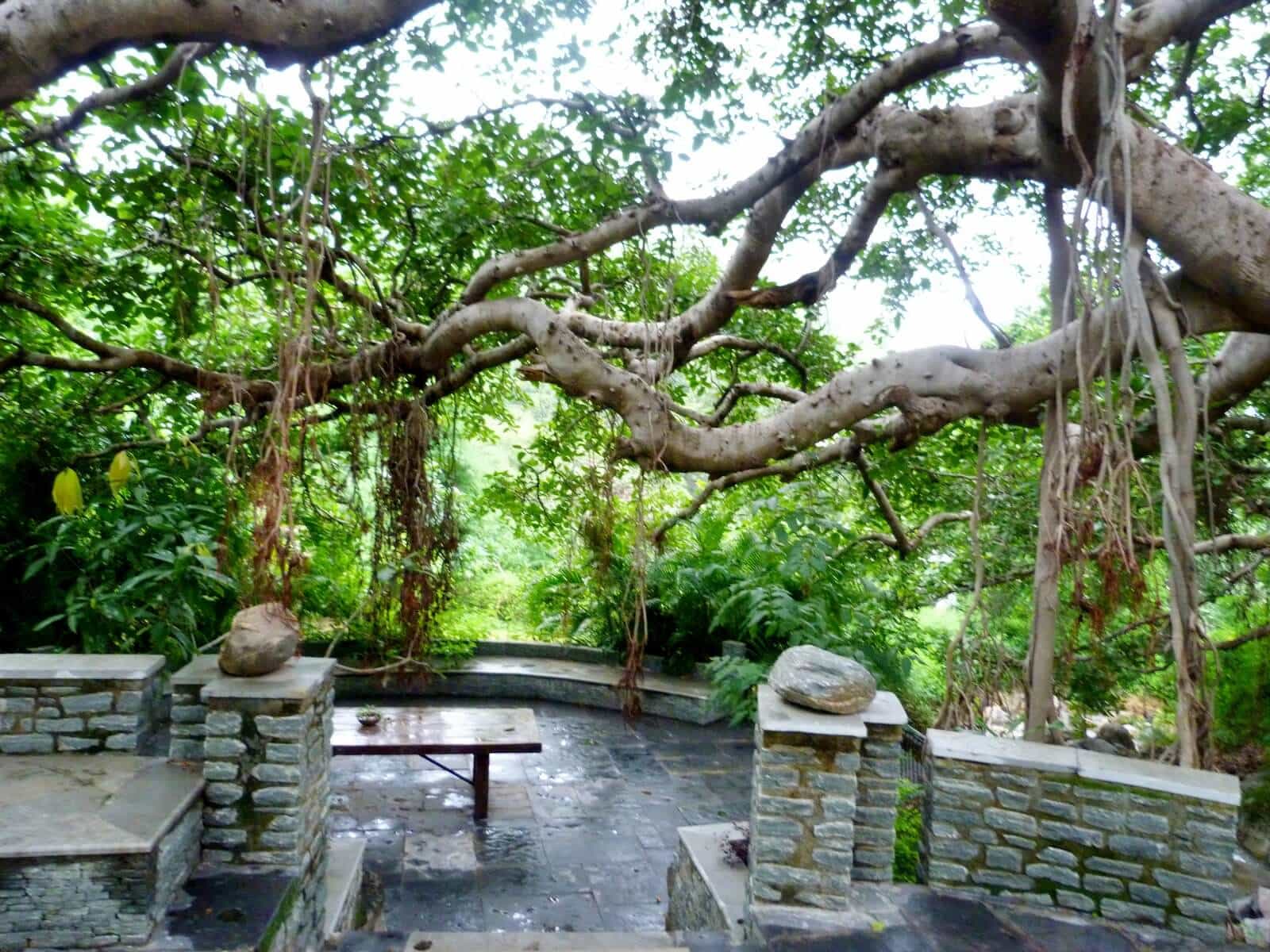 Frankly we were a bit disappointed initially when we sat down to what we thought was very simple fare for a place of this caliber. However a few bites in, it begins to sink in how apt the food is for the place. You do not come to a place like this to gorge on unhealthy food rich in oil and butter but to relax and enjoy. The food is completely in tune with the surroundings, light, non-oily and non-spicy and is best for keeping the tummy in good spirits throughout the journey. The food served was mostly Indian fare but should you prefer a more continental offering, the chef seemed well adept at dishing out some of that as well. Personally, we would had appreciated it a bit more if they had asked us for a preference or dietary restrictions before serving the meal. It is not essential nor is it a norm but it definitely would've given them a brownie point if they had. However we will be back to have that missed lunch under the Banyan tree!
Ending notes & Tips:
Their 3 dogs can be really playful and will jump all over you if they take a liking to you. Usually that's not a bad thing but for Nirali who already has a mild fear of anything with a sharp set of fangs, it was quite a frightening experience (and a muddy one, given how the dogs had been splashing about in the post monsoon puddles around the property). However for someone who loves dogs, the sight of the bounding dogs with their tongues lolling out can be quite cheering.
Be prepared to be completely cut out from the outer world once you're inside the premises. Except for a small area near the banyan tree, it is near impossible to catch a network anywhere inside the premises which might cause a few hiccups for those waiting for some important business calls. However why anyone would bring their business with them at such a location will probably be beyond us.
The small stream passing through the property looks inaccessible but can be reached through a small makeshift pathway near the banyan tree. If you're a bit daring, you can go down to the stream and dip your foot in the cool clean waters for some natural therapy. And it makes for a wonderful photo-op as well.
Fact File:
Mountbatten Lodge is 10 Km (Roughly 20 Mins) from Ranakpur Jain Temples and about 100  Km (Roughly 2 Hours) from Udaipur.
The best time to visit would be just after the monsoons when it is green beyond imagination and/or in the winters when the climate is better. We would imagine the summers to be cool as well given the forested surroundings and give a worthy excuses for a dip in the beautiful plunge pool, making it a round the year property
We stayed in one of the two top floor suites with a private plunge pool, however, to our knowledge all suite options come with similar décor and only differ in its layout (The ground floor rooms are interconnected suites sharing a swimming pool)
Mountbatten is great for couples looking for some alone time, families come to spend some time together or even solo travelers wanting some peace and quiet. You can book a room at their website for the best prices
We were guests of Mountbatten Lodge, Ranakpur but as always our opinions and experiences are unbiased, untarnished and entirely our own!
Like it, Pin it!