The rain holds a special place in our hearts and is probably the reason why we travel a lot during the monsoons. India Road trip as a rule is  shunned by most during this season probably because of the bad condition of roads. However much to the dismay of our parents and astonishment of our friends we geared up for a Rajasthan tour. Normally an ideal monsoon destination, this year the rain Gods decided to unleash their fury on this desert state with widespread flooding reported including in areas we had planned to cover. Not one to back down from a challenge we decided to go ahead with the trip giving the rains a leeway of about a week to settle down. Let's just say the roadtrip did not go as expected.
Our route was Ahmedabad to Ranakpur to Jodhpur to Bhainsrorgarh to Udaipur and back. Which seemed great on paper but given the lashing rains and the fact that we would have to cover some rural stretches (bye bye 6 laned highways) there were bound to be complications. We started our journey with clear skies and a sunny disposition and the roads in top shape. We reached Udaipur in record time and continued on to Ranakpur. Given its location and the season, the green on both sides of the road was a welcome sight and an exhilarating one at that. Though we were crossing parts of the Aravalli, the roads at no point seemed treacherous or broken.
We encountered little or no trouble during our stay at Ranakpur and made a fantastic discovery on our return from the Jain temples that evening. Asking a few locals, we discovered a small trail by the road which led down to a temple dedicated to Lord Shiva which was where Mahrana Pratap used to frequent and took blessings from before starting his famous campaign at Haldighati. We never could find anyone to verify this particular folklore but found solace at this small temple which is now frequented only by local devouts.
If you're planning to stay at Ranakpur, read our review of The Mountbatten Lodge.
Our journey to Jodhpur the next day should by all accounts have been a short and smooth one. However, our hotel was off the main highway in a small village in the desert. The offroading was particularly difficult because of the flood like situation a few days ago which had destroyed all roads in a stretch and to call it bumpy would have been an understatement. We were only able to reach a particular point post which our luggage was transferred to a 4WD Mahindra vehicle which took us to our destination. The desert hardly looked its part and instead gave the feeling of us travelling through a green stretch with small ponds on either side of the road, roads which looked like small trails overrun with streams and sprouts and trees and shrubs in full bloom. Hardly a sight for what was supposed to be a desert experience.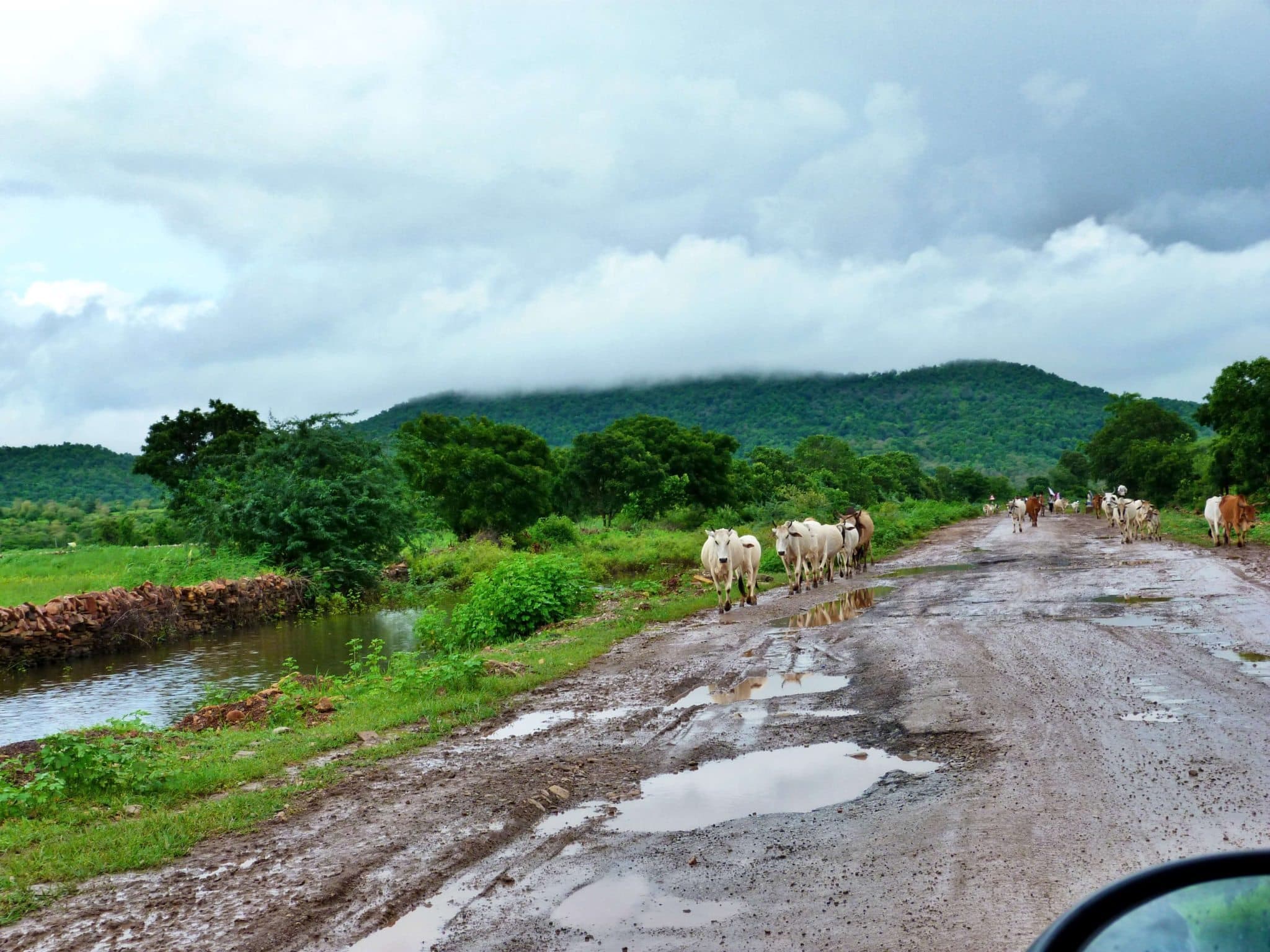 We weren't displeased though (except for the ride which wasn't helping our already stiff backs) as the views made for a tranquil sight. The journey to and fro as we visited the main city was as painful but quite worth it as we discovered the various sights of the city including the beautiful Jaswant Thada and the intimidating Mehrangarh Fort. What most tourists skip out on are the street eats which is best tackled if you have your own drive. Asking a few locals about their favorite eating joint we reached a shop which had … surprise, surprise, only locals milling around. The various Kachoris we had including the very ingenious Mawa Kachori which made it sort of a sweet dish was lipsmacking to say the least.
If you're open to staying outside Jodhpur city, you might want to check out our review of Mihirgarh.
On leaving our hotel for Bhainsrorgarh, we had thought that the worst was behind us, however the reality was far from it. We started off well enough, paying homage to a local God which has an interesting backstory. The motorcycle God, Om Banna, is said to be the God of travellers and every driver ferrying tourists passing by this road makes it a point to stop, pay homage and seek blessings for a smooth journey. The motorcycle being a 350cc Enfield Bullet. It is said that Om Banna on his way back to home was killed in an accident driving this same motorcycle. The morning after the accident, local police took the motorcycle to a nearby police station but was reported the next day to have disappeared from the station and found back at the site of the accident. It kept coming back despite the best efforts of the local police and thus formed the folklore and cult of Om Banna.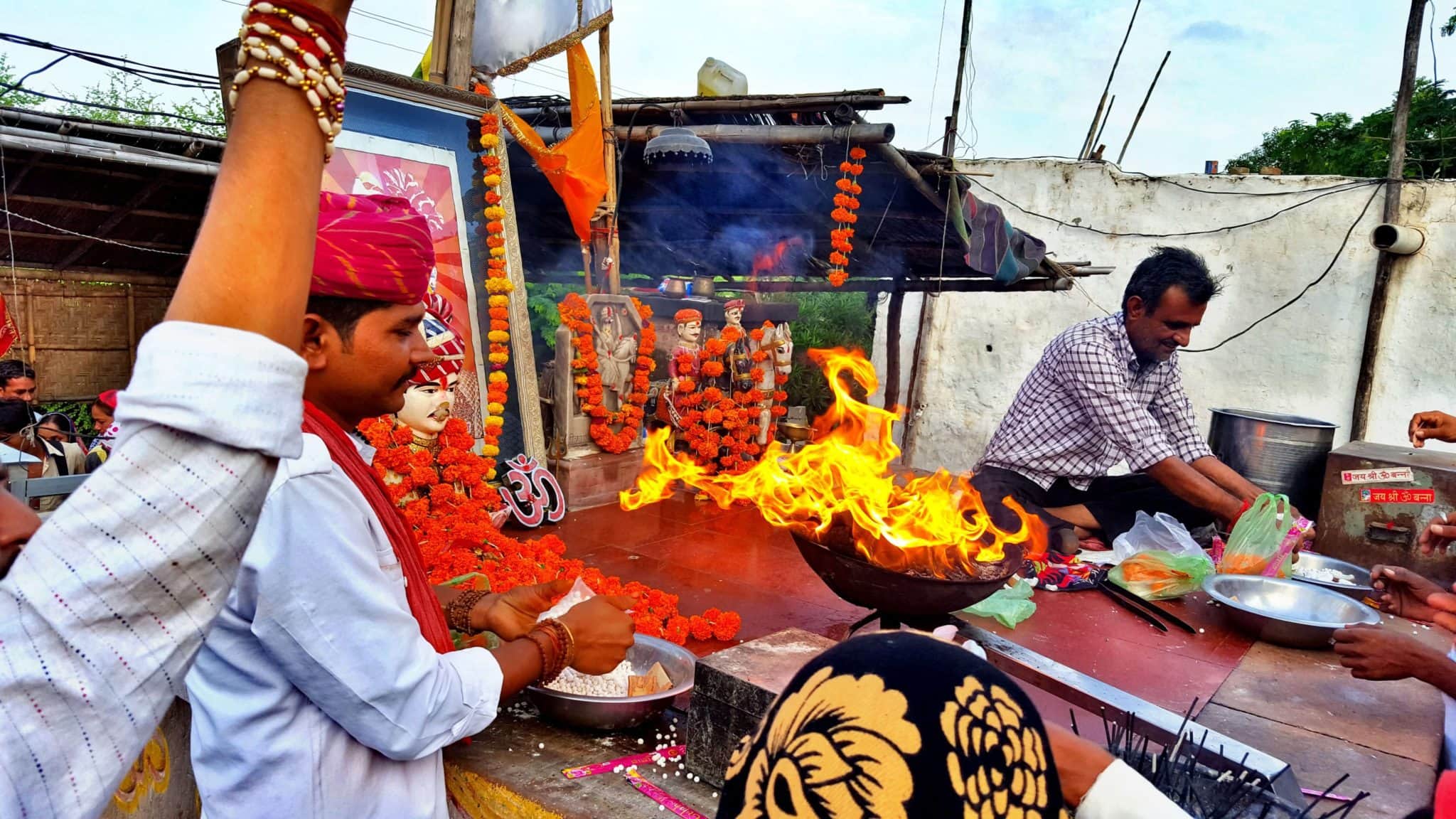 We did pay homage, but maybe weren't devout enough given our journey ahead. After we exited the highway, roads were non existent, canals were overflowing, the livestock having no respite from the flowing water below or the lashing rain above has resorted to standing on whatever stretch of high ground – namely the uncrumbled bits of road. This however meant we were continuously driving through potholes for about three hours and the route which should have taken us 6 hours of smooth driving even with moderate traffic took us upwards of 9 hours.
We stopped at a couple of places to ask for directions and the condition of the road and a few times to  grab some bhutta (corn cob) and chai (tea) as we didn't dare to stop for lunch and risk getting more delayed. Once we finally reached our destination, the mist which had accompanied us for the last hour changed into a light drizzle dampening our clothes to match our moods as we made way to our rooms. That we were served some hot tea with pakodas (deep fried potatoes/onions made with chickpea batter) which after this long journey was very welcome and frankly helped reduce a lot of our stress. The climate remained the same throughout our stay and we opted to walk down and explore for the remainder of our stay.
Check out our review of The Bhainsrorgarh Fort Heritage Hotel if you're heading that way.
The day finally arrived when we were to leave for Udaipur and filled our minds with dread for the upcoming bumpiness. Maybe the blessings of Om Banna took time to reach us, however we faced little to no difficulty except for the bumps which we had braced ourselves for. The ride to Udaipur was a smooth one and given that we were right on time we decided to stop by and explore another local myth, Shri Sanwaliya Sheth.
There are two temples, a smaller one on the highway and the original and much bigger one in a village off the road. Not wishing to risk an offroader again we visited the temple on the highway. Folklore says that Sanwaliya Sheth is the avatar of Lord Krishna and the God of thieves. If you've have indulged in thievery of any form, from stealing pocket money to evading check points at borders or even caught in the act, you can pray to Sanwaliya Sheth and promise him 10% of the amount and he will make everything alright. Given the context, it wasn't surprising to see the temple filled to the brim with devouts. It was actually funny how we want to believe in something to ease the guilt in ourselves. Truly an amazing find for sure!
The rest of the short trip to Udaipur was as expected and so was the onward trip back to Ahmedabad. An uneventful end to what was a roller coaster roadtrip in the monsoons. However, we took back much more than the sights from the trip and on such a long journey and adverse conditions we've come to appreciate the road safety guidelines a bit more. Though we see a lot of kids driving these days, it is important to have maturity while driving, which can help curb road rage as well compromise when forced into a situation to let pass or overtake. We've also learned to appreciate the utility of seat belts which though enforced for our own safety is treated more like a neck tie meant to be loosened or thrown off at the first opportunity. We can see how it can save so many lives if people start wearing it with self awareness. We've also come to appreciate cautious driving especially in rural areas where children or even livestock running across the one laned road is a fairly common occurrence. Slow speeds can help avoid the remote possibility of an incident. We would like to finish by summarizing that though driving can be a bit of a rollercoaster ride, taking it a bit slow can help you discover new joys we might have normally skipped in our race for time.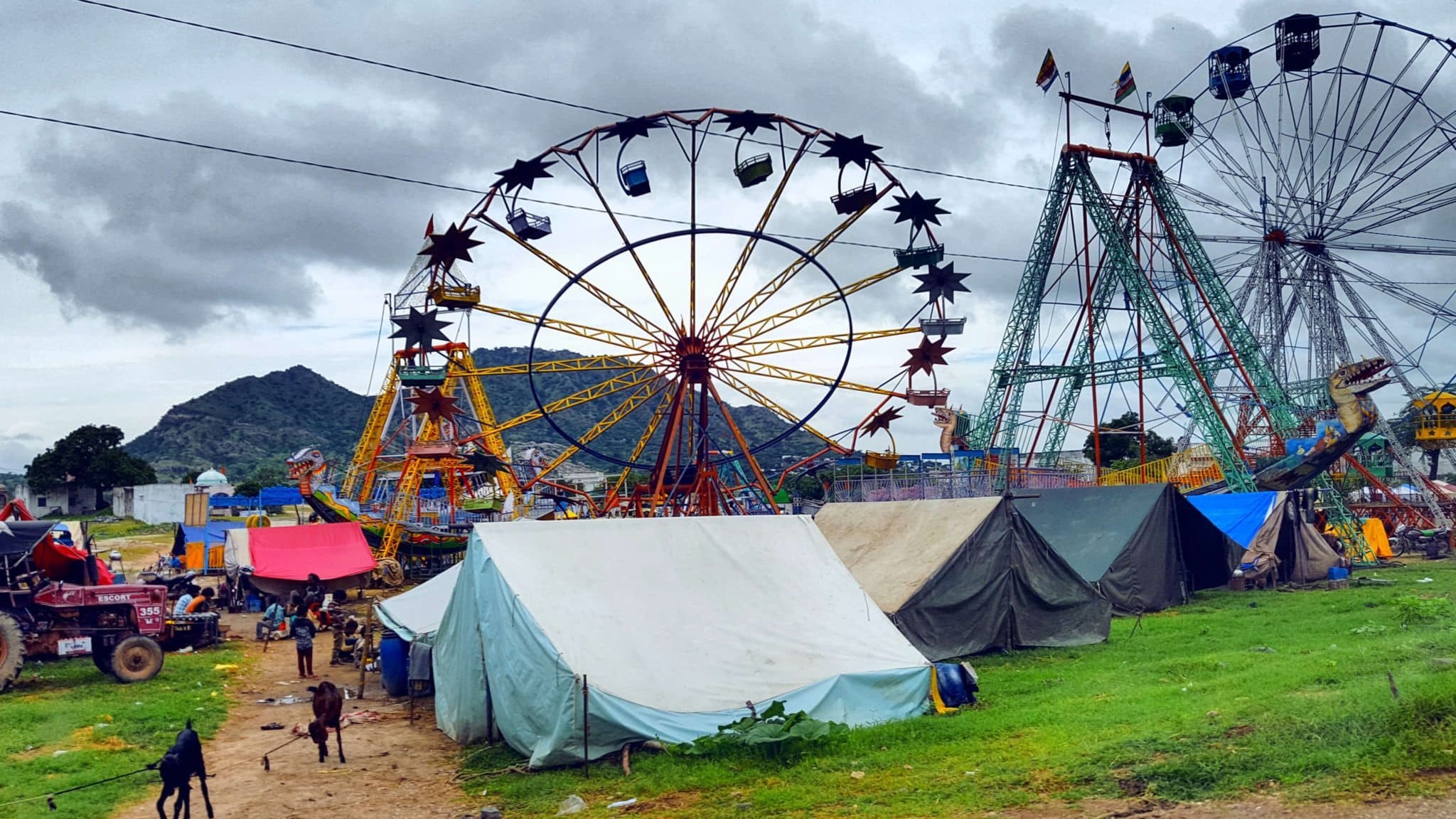 If you liked reading this you might also like reading about our Ultimate Rajasthan tour itinerary or an alternate version of the roadtrip.
Like it Pin it!